Warre's Late Bottled Vintage Port 2002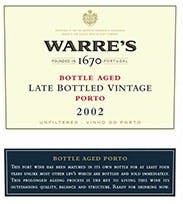 Warre's was alone for many years in continuing to make LBV in the same way as it had been made for generations; bottled without any fining or filtration after some 4 years of ageing in cask. This Port is then matured in bottle for at least another 4 years. This prolonged bottle ageing is crucial to the development of the superb "nose" and flavour which lend this Port a style and complexity very much akin to that of Vintage Port. Warre's LBV is generally acknowledged to be the finest of its type. Food pairing suggestion: This wine is superb with cheese, nuts and dried fruits after a meal.
Wine AdvocateThe 2002 Late Bottled Vintage Port is unfiltered and bottled with a long cork. Elegant and aromatic, this is a beautiful achievement in a very difficult vintage in Douro. Showing terrific concentration for the vintage, it has mild tannins at this point and controlled flavors laced with a touch of herbs. This is a great time to dive into this unfiltered LBV. It still has plenty of life left, but it is unlikely to get better.