Chateau d'Yquem Sauternes 2005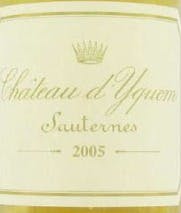 WE CAN ONLY SHIP TO BILLING ADDRESS.

Lovely, brillian, golden-yellow color. Concentrated nose of apricot compote, dried fruit, and figs with vanilla and floral (jasmine and acacia blossom) aromas. The bouquet opens up after swirling in the glass to reveal extremely fresh citrus zest overtones that emphasize the wine's subtle refinement. 2005 Y'quem starts out deliciously suave and caressing on the palate, with perfect balance. The fresh acidity and elegance complement the wine's restrained power, giving it incredible class. There are strong flavors of gingerbread, orange nonette cakes, and licorice followed by a gorgeous acid tangaht underpins the wine's beautiful long aftertaste on a par with the Chateau's most illustrious vintages. The tremendously varied and complex flavors all seem to vibrate on the same wavelength, melting into a subtle whole. Once this is experienced, there is an irresistible urge to plunge back into this sensual, infinitely rich universe.
Wine SpectatorFloral, lemon, apple and cream with dried pineapple and apricot. Full-bodied, but very focused and refined. It starts slowly and then, wham! It goes on and on. Spicy, dried fruits and spices. Full-bodied, medium-sweet. So long and exciting. It is very close to 2001. We will see.
Wine EnthusiastThis isn't sweet, but just so wonderfully rich. It's the concentration of botrytis that makes the wine. The texture is velvet, but with a spicy bite to it. Apricot, honey and marzipan all contribute to a wine that will age over decades.
Wine AdvocateSomewhat muted floral aromas of jasmine, orange blossom and honeysuckle over candied pineapple. A waft of anise and some cedar. The palate is quite restrained with well balanced sweetness versus medium to high acidity. Very long finish - a mineral character coming through.