Veuve Clicquot Demi-Sec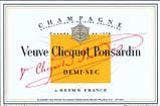 Creamy, with a touch of sweetness. Veuve Clicquot's Demi-Sec (the classic accompaniment to dessert) is equally pleasing as an apéritif. This stylish blend is evocative of the wine Madame Clicquot herself produced in the early 19th century. Wonderful with fruit and cream-based desserts such as tarts, mousses and especially crème brûlée.
Wine EnthusiastThis strikes a nice balance between fruit and sweetness, retaining plenty of fresh fruity acid structure. It's like a sparkling Vouvray but with texture and depth; nothing sugary here. The flavors extend smoothly into a clean and layered finish.
Wine SpectatorA firm, compact style of demi-sec, offering peach and apple compote, honey and vanilla flavors. Drink now.