Appleton Estate Jamaica Rum 21 year old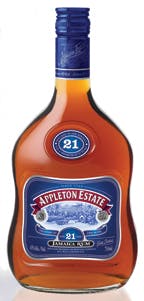 This spirit is truly exceptional and has been aged for a minimum of 21 years in oak barrels, patiently waiting to be released. For that reason alone only a limited number of bottles of this luxury sipping rum are released each year. While some people spend their time collecting Elvis memorabilia and crystal figurines, true collectors of rare quality will have their eye on this prize. Dust off your snifters and lock the doors, as this is a once in a lifetime experience to be savoured. Appearance: Coppery/tawny. Nose: Floral scent that develops into a unique mature nutty bouquet, with vanilla, orange peel and cocoa notes. Mellow orange peel, Deep vanilla, Rich nutmeg, Vibrant almond, Warm coffee and cocoa. Palate: Baked nuttiness comes on strongly in the tastes of molasses and oak. Finish: Long, sap-like, brown sugar-like, dry.
Wine EnthusiastThis gorgeous copper-hued rum seems to shift flavors with every sip, encouraging contemplation. It starts with dry notes of espresso and bittersweet chocolate, then morphs into dark, mouthwatering brown sugar, toffee and clove, before easing into a spiced finish reminiscent of chai tea with a hint of white peach.